Newspaper Front Pages: Monday, May 17, 2021
Daily Graphic
Covid-19 vaccination continues Wednesday
7 persons, including family of five electrocuted
Daily Guide
Opuni, Agongo injured State financially – Judge
National Security probes fake passport scandal
The Daily Statesman
Ada Chiefs, elders laud progress on Songor Salt project
'Yedum siesie' – Napo says plan to deliver reliable power on track
The Finder
IMF lauds Ghana for effectively managing Covid-19
Transport fares to increase by 20% from today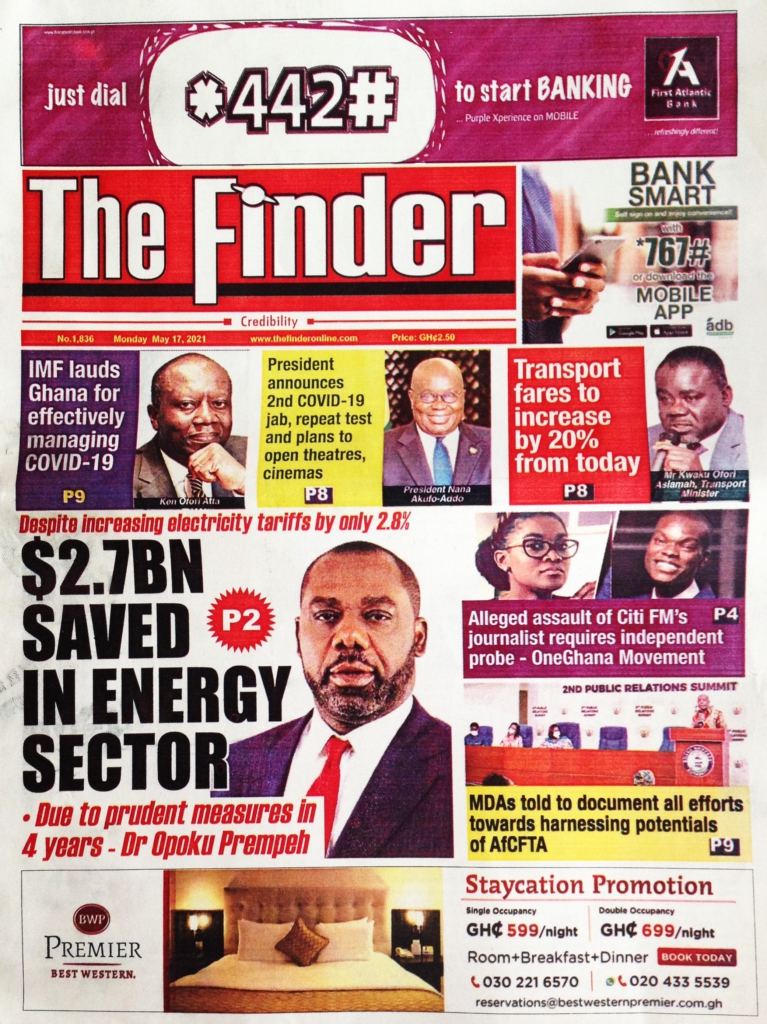 Source: www.KNUSTconnect.Com
Heroes From KNUST: Meet El-Anatsui, The Contemporary Ghanaian Sculptor
Heroes From KNUST: Meet El-Anatsui, The Contemporary Ghanaian Sculptor
El Anatsui is a contemporary Ghanaians sculptor who was born in the year 1944 in the Volta region of Ghana.
Anatsui studied at the University of Science and Technology now Kwame Nkrumah University of Science and Technology (KNUST) in Kumasi, Ghana.
Internationally and locally celebrated for his transformation of simple materials into elaborate, mutable sculptures.
Anatsui used woods, discarded metals, and clay linked together to form uniquely scintillating wall tapestries.
His works tackle weighty subjects such as consumption and colonialism, while also visually referencing the history of European and African abstraction through an interpreted sense of Minimalism.
Refraining from dictating how his work should be installed, the artist has explained that 'art is a reflection of life. Life isn't something we can cut and fix.
His collections are in New York, Paris, London, and many other countries. he currently lives and works in Nigeria.
Anatsui's media are clay, wood, metal, and found objects which he uses to create sculptures based on traditional Ghanaian beliefs and other subjects.
Source: www.GhanaCNN.com
Afia Schwar Drops Photo Of Twene Jonas And DJ Switch Before The Alleged US Trip
Afia Schwar Drops Photo Of Twene Jonas And DJ Switch Before The Alleged US Trip
Afia Schwarzenegger has dropped a photo of Twene Jonas and DJ Switch before the alleged US trip on which Jonas absconded.
In his live videos yesterday, the controversial Ghanaian based in the United States hurled insults at comedienne Afia Schwarzenegger.
The insults hurled by Jonas were so venomous that we will not repeat them here.
Afia Schwar, on the other hand, has responded with her own insults while also revealing some Jonas secrets.
According to Afia Schwar, Jonas is actually an illegal migrant who run away to the US after he joined young DJ Switch on a tour.
Afia Schwar has further released the photo below to back her claims that Jonas indeed travelled with DJ Switch.
Source: www.KNUSTconnect.Com
For all the latest news in Ghana, log on to GhanaCNN.com
Akufo Addo's Free SHS Girls Came Back To School Pregnant – Headmistress Blames The Policy
Kwahu Nkwatia Presbyterian Senior High School headmistress, Mrs Cythia Anim, reported the worrying situation in the Eastern part of the country.
According to her, most of the girls in
JHS and SHS
returned to school pregnant, with some donning engagement rings. A report cited on Starfm.com uncovered the alarming increase of teenage pregnancy among students in the Eastern Region. According to Mrs Cythia Anim, "Some female students returned to school pregnant and wearing engagement rings. They got impregnated and were forced into marriage. But the policy says you cannot sack them from the school. So I allowed them to stay in school. I only asked them to remove the rings. In all this, it will get to a stage they will drop out of school when the belly protrudes". She disclosed this at the Girls Education Network formed by the Plan International Ghana meeting. The conference was part of the commemoration of the Day of the African Child on June 16 of every year. Mrs Anim also blamed the situation on the law, which permits girls to legally have sex at a young age. She said that the consensual age has exposed these young girls to the cunning ways of amoral men. She said, "Government is saying that a person can go to bed with whoever he chooses at age 16. So if a girl doesn't start KG early by 16, she is in school and legally free to have sex and at age 18 can even go ahead and marry." "So, we have realized that our girls are getting pregnant. And they even go and marry and come back to school with their rings on, which is of very bad taste. Because we know at the basic level, a girl should not be pregnant and marry. If for anything at all it should be tertiary, but with this clause, where lies the power of school authorities to question girls who come to
school
with their wedding and engagement rings?" she continued. Eastern Region recorded the second-highest numbers in teenage pregnancy. A total of 109,888 adolescent girls were impregnated in 2020 in Ghana. Of which 2,865 were between 10 and 14 years. And 107,023 were between the ages of 15 years to 19 years. Source:
www.GhanaCNN.com